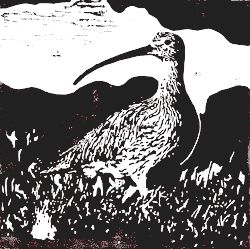 The Curlew Conservation Programme involves locally based teams of advisors, champions and nest protection officers, working closely with landowners and other local interests, to protect Curlew nesting attempts and to improve habitat quality. NPWS Conservation Rangers and management are also centrally involved in a number of areas. The programme is being led by Dr. Barry O'Donoghue of the Agri-Ecology Unit in NPWS. The programme places the landowner and the birds at the centre of all considerations, with key goals of giving the Curlews a better chance of rearing chicks and stopping the population sliding further towards extinction.
The annual report for 2019 of the Curlew Conservation Programme is now available. The annual reports for 2018 and 2017 are also available.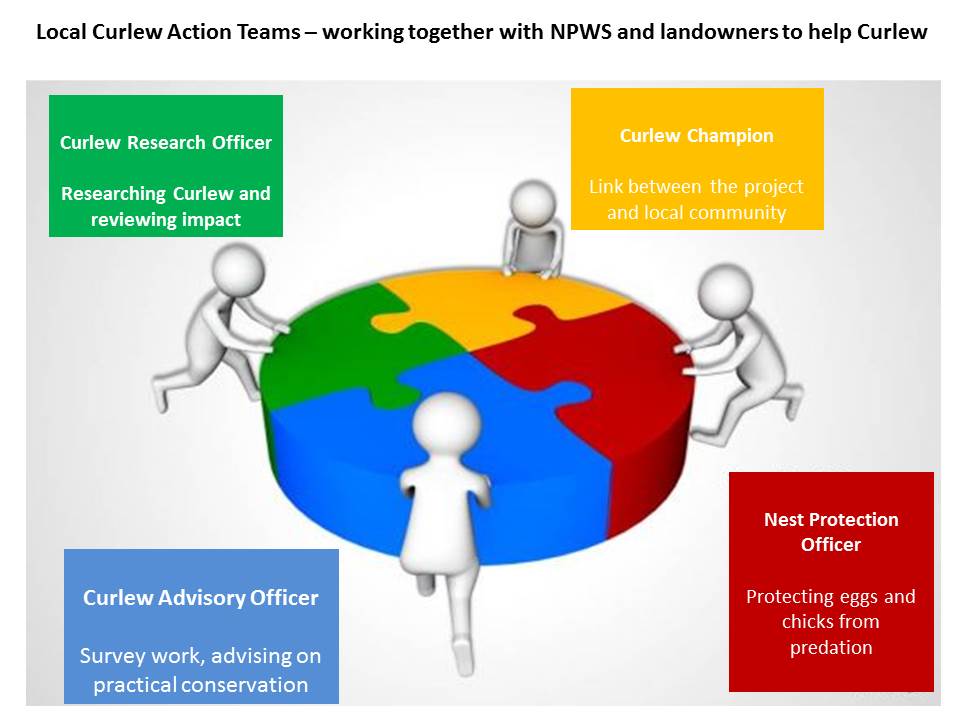 Given this is a pioneering project in Ireland, there is also a research element, being undertaken at the School of Agriculture in UCD, in collaboration with BirdWatch Ireland. This research is funded by the Department of Culture, Heritage, and the Gaeltacht.
The Curlew Conservation Programme is focussing as a pilot on seven of the most important areas in Ireland for breeding Curlew, including the Stack's Mountains in Kerry, Lough Ree, Roscommon/Mayo, Leitrim, North Monaghan, Donegal and Lough Corrib. In each of these areas, local teams are surveying for Curlew, engaging in nest protection efforts and liaising with landowners. Funding is available for landowners to engage in efforts on the programme, including habitat improvement works.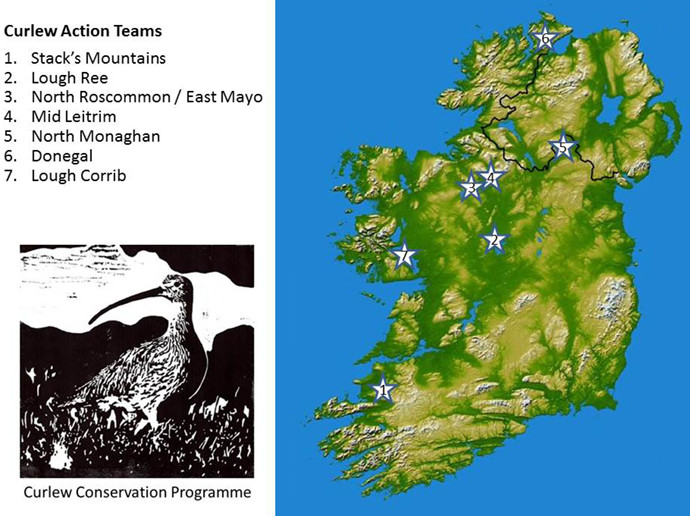 Landowners and members of the public are asked to get in touch with the Agri-Ecology Unit of NPWS, on 01-8883255, if they would like to let the project know of any Curlew sightings during the summer or if they would like to get involved with the project or engage in habitat improvement works.