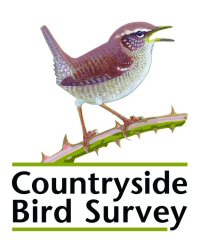 The Countryside Bird Survey (CBS) is a national project that monitors the population trends of Ireland's common and widespread breeding birds. It has been running since 1998. The primary aim of the CBS is to track changes in breeding bird populations from year to year and over the long term.
The CBS one of Ireland's longest annual national bird monitoring scheme and volunteer input into this scheme continues to make this an on-going success. A report which summarises the results the 16-year period between 1998 and 2013 can be found here.
To view the latest national trends follow this link.