News
Taoiseach tells Biodiversity Conference time has come for "a new era of stewardship of our natural world."
Date Released: Thursday, June 9, 2022
- Series of commitments to address biodiversity loss pledged as conference ends
In his keynote address to the second National Biodiversity Conference at Dublin Castle today, An Taoiseach Micheál Martin pledged Government support for the outcomes of the two day event, saying "the time has come for a new era of stewardship of our natural world."
An Taoiseach said the deliberations "are vitally important to the future of our country" and will inform future decision making.
He said biodiversity loss "will only be successfully tackled as an all-of-Government and all-of-society project, which will require the vigilance of planners, local authorities, agricultural advisers and all manifestations of state who have a hand in regulating interventions in our land, rivers, lakes, seas and air."
He added: "The rich tapestry of the natural world has been our inheritance. In many ways we have fallen short in protecting it. But knowing what we know, we can resolve to change our approach and put the protection of nature and climate at the heart of our decision making. The time has come for a new era of stewardship of our natural world. We must follow the science and urgently turn things around for the good of all people and our planet."
The Taoiseach's speech also addressed all-island engagement, climate change, community involvement and the role of results-based payments.
He said from a farming perspective, results-based, community-level projects are "the way forward for nature" and he praised those who have signed up to such schemes.
The Taoiseach was happy with progress on shaping the fourth National Biodiversity Action Plan which he dubbed "Ireland's keystone policy for the recovery and restoration of nature".
Yesterday, delegates heard from Elizabeth Maruma Mrema, the Executive Secretary of the UN Convention on Biological Diversity, Stefan Leiner, the Head of Biodiversity Unit at the European Commission's Directorate General for Environment and many others. Ministers Darragh O'Brien, Malcolm Noonan and Pippa Hackett, and a wide range of national experts and leaders on biodiversity also addressed the conference over the two days. Plenary sessions held over two days will directly inform the fourth National Biodiversity Action Plan.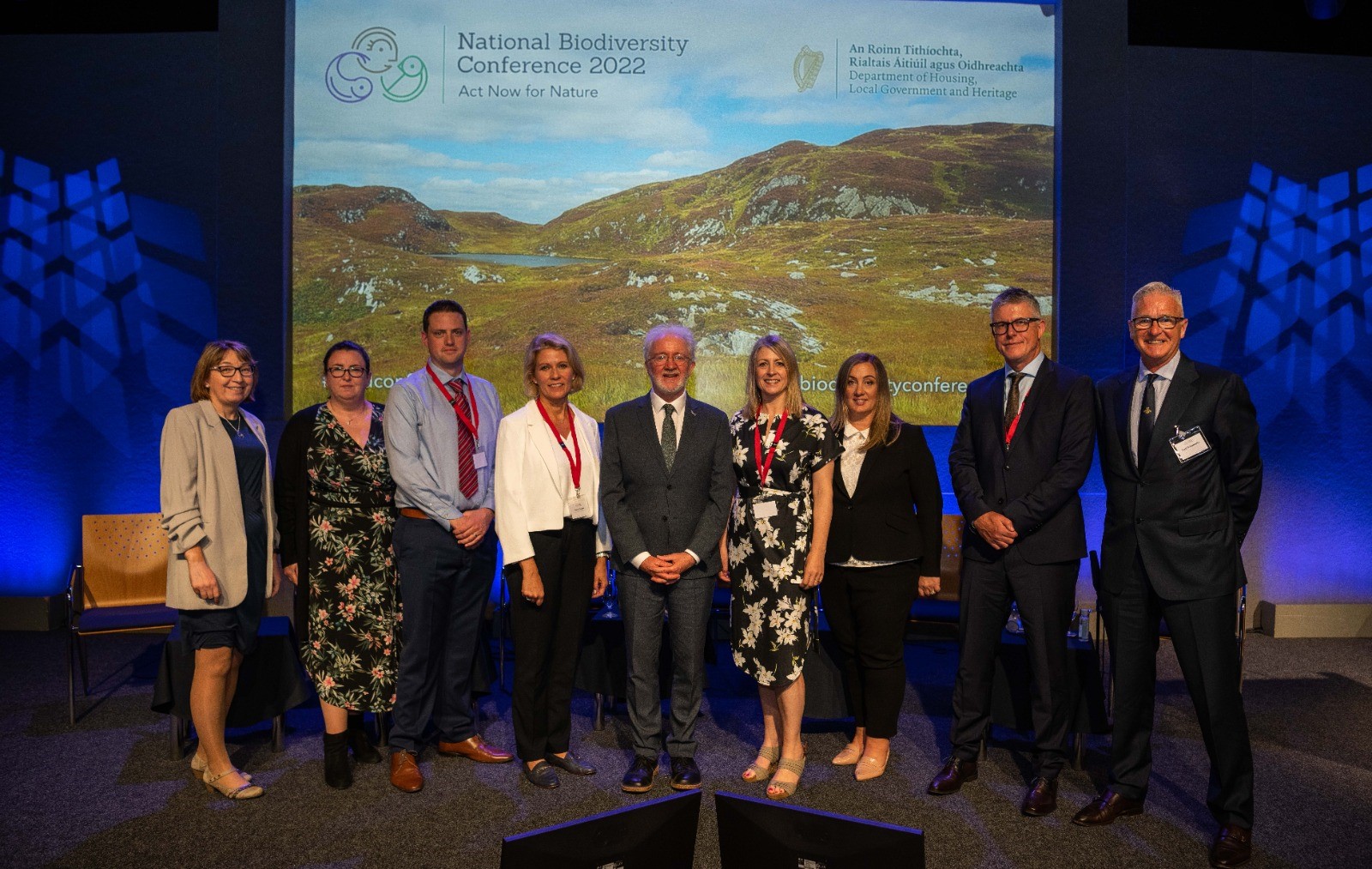 National Parks and Wildlife Team with Minister Noonan
As the conference closed, Minister of State for Heritage and Electoral Reform, Malcolm Noonan TD, addressed delegates and announced a number of strategic pledges, on top of yesterday's announcements, including:
An additional €17m to support breeding waders and their habitats in the wider countryside. The programme will be designed to support and compliment the Breeding Wader EIP, part of the CAP Strategic Plan, co-funded with Department of Agriculture, Food and the Marine to support bird species, including curlew, lapwing and golden plover across the country.
A commitment to fasttrack the recruitment of Biodiversity Officers in every Local Authority within three years. Six will be appointed in 2022, bringing to 11 the number in place by the end of the year.
€1.5m to support varied initiatives that work with NPWS teams across critical areas in research, engagement and policy:
The Farming for Nature Project will benefit from increased funding to support its development and outreach in engaging with farmers, enabling knowledge-sharing and delivering peer learning to support biodiversity conservation in agricultural landscapes.
The National Biodiversity Forum to expand its role to do more in the science-policy space to support effective evidence-based action, as well as stakeholder consultation work across the wider sector.
The All-Ireland Climate and Biodiversity Research Network to design and synergise research that supports integrated climate and biodiversity policy measures.
€300,000 will be provided to support the monitoring stream of BIODIVERSA, the European biodiversity partnership supporting research on biodiversity.
As the conference closed, Minister of State Noonan said he was very satisfied with how proceedings went and he looks forward to the preparation of the next National Biodiversity Action Plan, to be published in 2023.;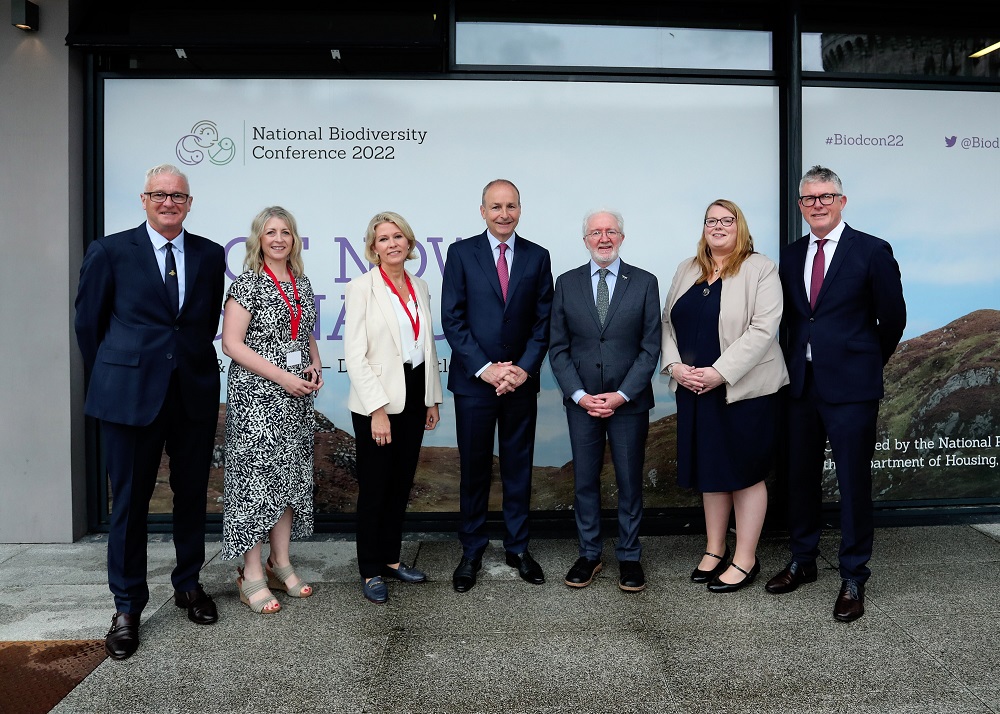 An Taoiseach Micheál Martin, Minister of State for Heritage and Electoral Reform, Malcolm Noonan and Colleagues
He said the presence of and the contribution by the Taoiseach will stay with him for a long time.
"It gives me great hope when a world leader addresses a conference on biodiversity and speaks with such passion and conviction. I know that the desire for collective action demonstrated here this week, evidenced by the hugely varied voices we've listened to and engaged with, will translate into a robust, ambitious National Biodiversity Action Plan that brings about the new era for nature stewardship we heard about this morning."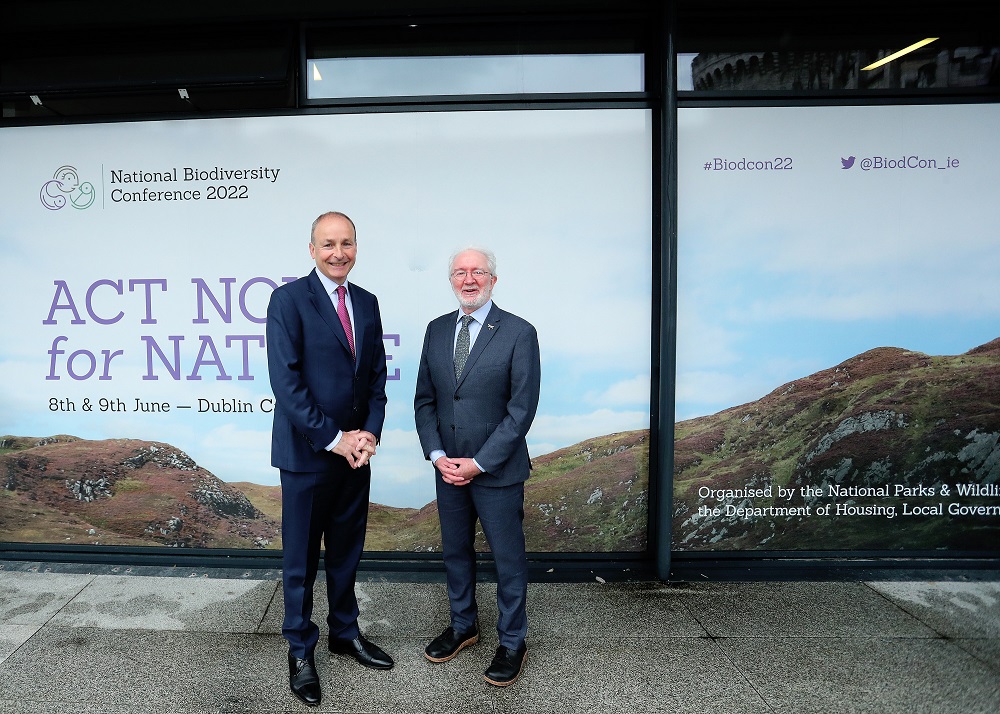 An Taoiseach Micheál Martin, Minister of State for Heritage and Electoral Reform, Malcolm Noonan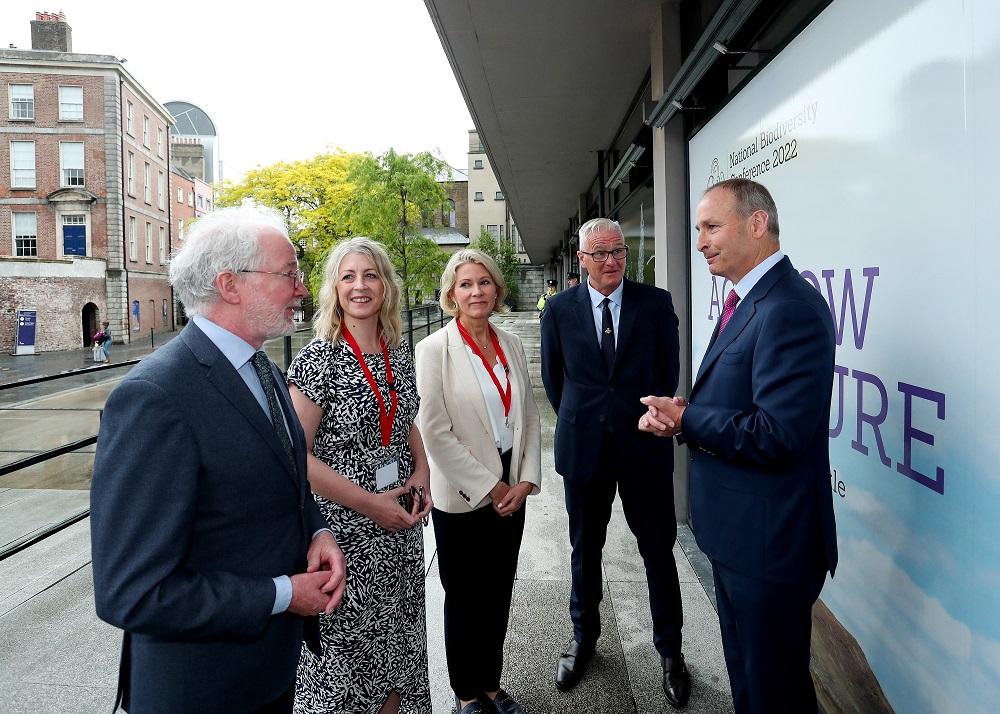 An Taoiseach Micheál Martin, Minister of State for Heritage and Electoral Reform, Malcolm Noonan and Colleagues