News
NATIONAL POPULATION ASSESSMENT OF PINE MARTEN
Date Released: Tuesday, December 1, 2015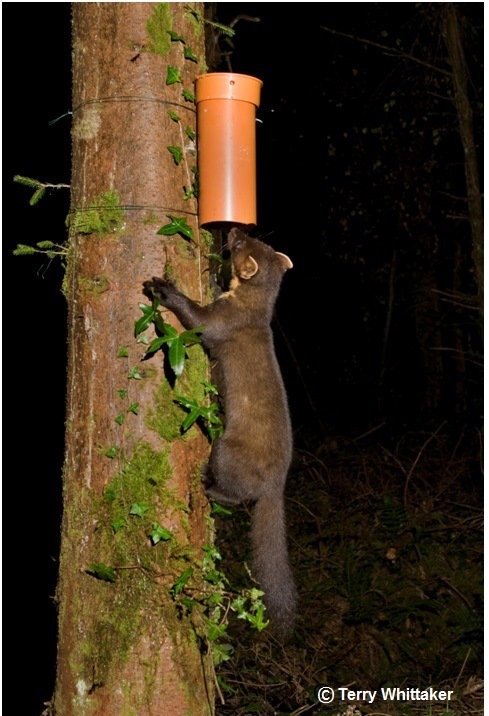 The largest scale population assessment of pine marten in the Republic of Ireland will be undertaken over the next 12 months to determine the abundance of this protected species. The data will be used to assess the conservation status, management requirements and future monitoring of this species in Ireland.
A team of scientists will conduct a non-invasive genetic survey in 11,000ha of forest habitat distributed throughout Ireland, which will passively collect hair samples from pine marten using hair tubes (see photo). Hair samples will be analysed using molecular techniques to identify a range of parameters including unique animal identity. Identity data will provide individual capture histories that will be used within a statistical capture-mark-recapture framework to generate local, regional and national population estimates for pine marten in Ireland. Ancillary data will also be produced such as sex ratio, population parameters and distribution that are critical to conservation management.
The project will be carried out in the spring and summer of 2016 by fieldworkers based in Waterford Institute of Technology and is in collaboration with scientists from the Agri-Food and Biosciences Institute, Northern Ireland: Catherine O'Reilly1, Peter Turner1, Ciara Powell1, John Power1 and Declan O'Mahony­2
1Waterford Institute of Technology, Cork Rd., Waterford; 2Agri-food and Biosciences Institute of Northern Ireland (AFBINI), Newforge Lane, Belfast BT9 5PX, Northern Ireland.
The project is funded by the National Parks and Wildlife Service of the Department of Arts, Heritage and the Gaeltacht.