News
National Parks and Wildlife Service and Leave No Trace Ireland announce Knocksink Wood, Co Wicklow, as Community Engagement Project for 2021
Date Released: Friday, November 26, 2021
The National Parks and Wildlife Service (NPWS) at the Department of Housing, Local Government and Heritage and Leave No Trace Ireland (LNT) have announced that the 2021 Community Engagement Project is a bespoke project to undertake vital restoration work in the Special Area of Conservation at Knocksink Wood Nature Reserve, Co. Wicklow.
The purpose of the Community Engagement Project is to educate people how to make responsible decisions when participating in outdoor activities, to promote a sense of stewardship for the natural world, and an understanding of how to reduce their carbon footprint.
This project is possible thanks to funding from The Community Foundation For Ireland.
Welcoming the selection of this year's project Tina Roche, Climate Change and Biodiversity lead at The Community Foundation For Ireland said:
"One of the big questions we face is how we manage to conserve and enhance the habitats of our declining biodiversity and yet allow people to enjoy nature. Leave No Trace, the national organisation dedicated to protecting the outdoors, is examining how this might happen in Knocksink. We, at The Community Foundation for Ireland, look forward to the outcome and how it might be applied elsewhere."
The Community Engagement Project is an initiative designed to address areas impacted by outdoor activities and heavy use. Using Leave No Trace solutions, these areas can be restored and thrive again. The chosen location receives a unique, site-specific blend of training, expert consulting, education programmes, service projects, monitoring programmes and more. With site-specific Leave No Trace measures in place, along with the support of the local community, the area is equipped to bounce back from impacts and recover its natural qualities. The result is a sustainable outdoor area that is on the road to recovery.
Site Manager and NPWS Conservation Ranger, Andrea Webb, said:
"Knocksink Woods is a gem of a site, but it is under a lot of pressure. I am delighted that Leave No Trace Ireland are working with the National Parks and Wildlife Service to raise awareness of the conservation value of the woodland".
Knocksink Wood Nature Reserve is designated a Special Area of Conservation (SAC) and Nature Reserve, but has unfortunately been severely impacted by littering, camping, and tree damage. Local community members and visitors to the wood will get involved in multi-day actions for biodiversity, working in collaboration with the NPWS, National Biodiversity Data Centre, and local councillor Melanie Corrigan to restore this area of natural beauty.
The Knocksink Wood project will combine on-site working to reduce impacts currently affecting the site, increased awareness, and a sense of ownership through citizen science projects with the creation of several educational resources such as a podcast series, technical tips videos, and more.
The team, along with visitors to Knocksink will spend several days on-site working to undo damage to the site, clear access for recreation, and remove litter and waste. The team will also carry out a BioBlitz with the data being fed into the National Biodiversity Data Centre's Database. This will involve recording all species sightings and collating them into one database to complement the development of the biodiversity action plan.
Padraic Creedon, Ecologist with Leave No Trace Ireland said:
"Leave No Trace are very excited to be a part of this project. From a personal point of view Knocksink holds a special place in my heart. I grew up nearby and went there often as a child, and it is unlike anywhere else I've ever been. To be working with the NPWS and the local community now to help this wonderful woodland is such a pleasure and goes to the health of the Leave No Trace vision to protect and enhance our outdoor recreational spaces."
The Leave No Trace Ireland Community Restoration Project with the National Parks and Wildlife Service will take place from late 2021 – early 2022, with on-site Impact Days planned for January and February 2022.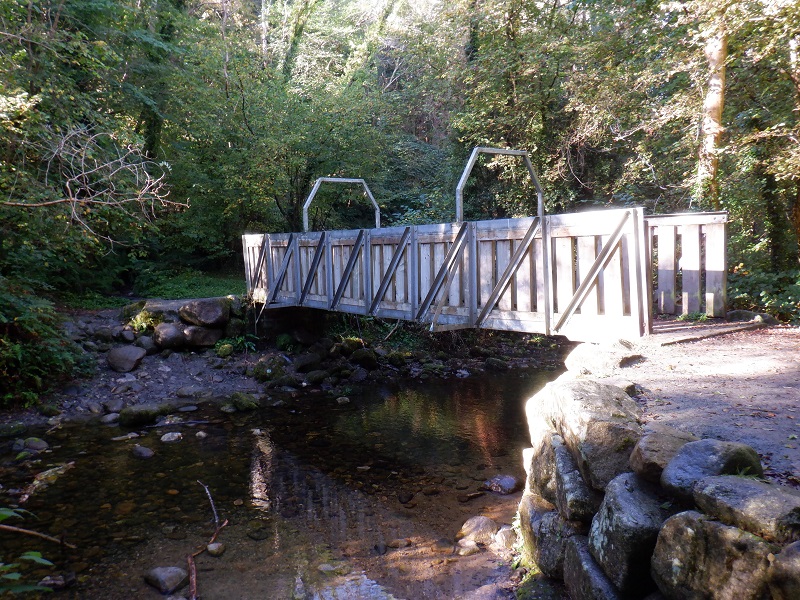 Footbridge over Glencullen River, Knocksink