News
National Ecosystem and Ecosystem Services mapping pilot for Ireland
Date Released: Monday, May 8, 2017
The National Parks and Wildlife Service (NPWS) of the Department of Housing, Local Government and Heritage, recently commissioned a short National Ecosystem and Ecosystem Services Mapping Pilot project for a suite of prioritised services based on available data.
The contract was awarded to a consortium led by Environment Systems, with Fabis Consulting, Team Projects and associate experts.
The project report (published as Irish Wildlife Manual No. 95, 2016), supporting documents and interactive mapping application are now available.
Project report (Irish Wildlife Manual No. 95)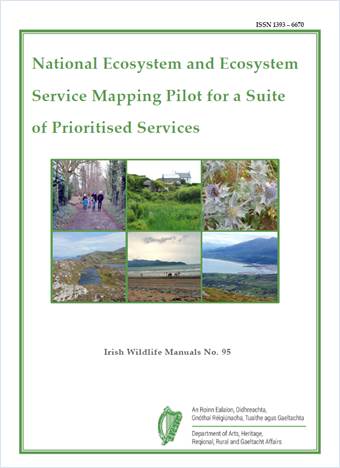 Parker, N., Naumann, E-K., Medcalf, K., Haines-Young, R., Potschin, M., Kretsch, C., Parker, J. & Burkhard, B. (2016) National ecosystem and ecosystem service mapping pilot for a suite of prioritised services. Irish Wildlife Manuals, No. 95. National Parks and Wildlife Service, Department of Arts, Heritage, Regional, Rural and Gaeltacht Affairs, Ireland. Irish Wildlife Manual 95. (See https://www.npws.ie/research-projects/ecosystems-services-mapping-and-assessment).
The set of mapped outputs included in the report are available for viewing and download through a dedicated public ESRI Story Map viewer on the Department's online portal: (best viewed using Chrome/Safari or IE Explorer ver 11 web browsers): http://dahg.maps.arcgis.com/apps/MapSeries/index.html?appid=cb5040a4a19645b6b424bed940c54fff
In addition, an Ecosystem Services Information Database (designed to incorporate datasets throughout Ireland, i.e. an All-Ireland Matrix of datasets) was produced to facilitate further ecosystem service mapping. It helps users identify their data needs for mapping a particular service and can identify which service can be mapped given the data available.