News
Irish Wetland Bird Survey (I-WeBS) Trend Report 1994-2020
Date Released: Friday, April 1, 2022
NPWS, working with BirdWatch Ireland have just launched the Irish Wetland Bird Survey (I-WeBS) Trends Report. This report provides national and site-specific trends for all waterbird species covered by I-WeBS for the period 1994-2020.
BirdWatch Ireland - Trends Report
There are some very positive trends, such as the Little Egret's colonisation of Ireland, with the wintering population having increased by a whopping 483% since 1994. - graph below.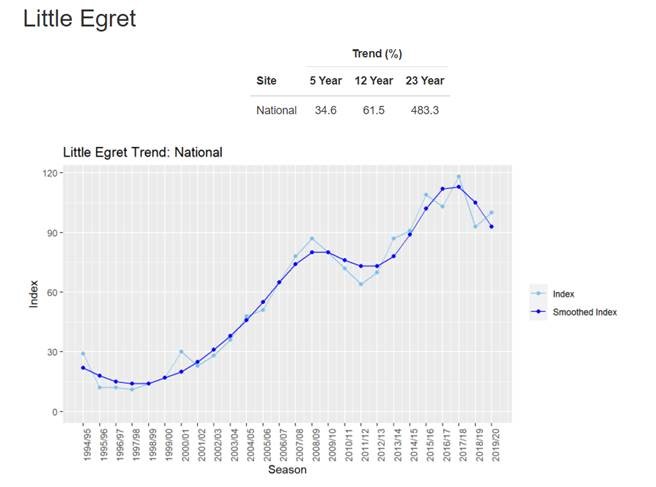 Sadly not all trends are positive. In particular, Ireland's populations of waders and diving ducks are experience major and ongoing national population declines. For example, over-wintering Lapwing numbers have declined by 63% since 1994. - graph below.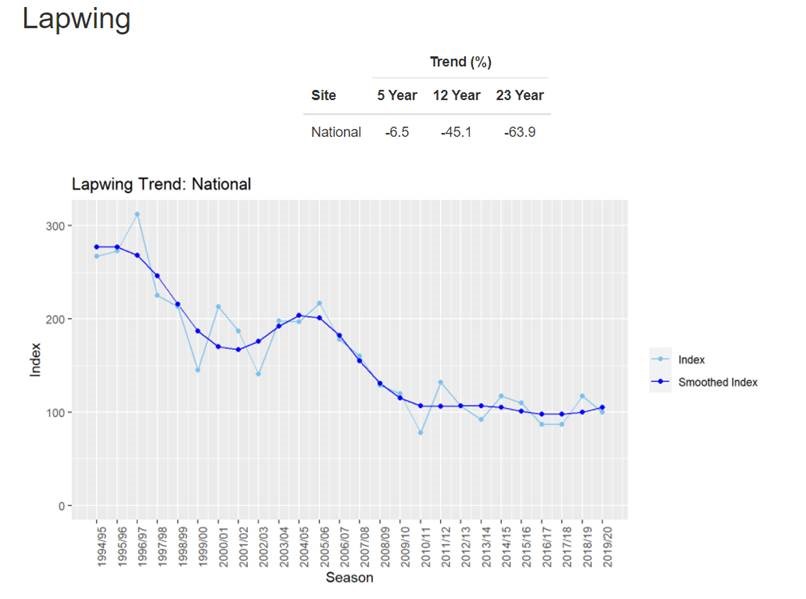 National Summary
Trend (%)
Species
National - 5 Year
National - 12 Year
National - 23 Year
Long Term Trend
Scaup
-33.6
-82.9
-89.2
Large Decline
Pochard
-19.8
-60.4
-79.1
Large Decline
Goldeneye
-32.5
-39.0
-66.9
Large Decline
Lapwing
-6.5
-45.1
-63.9
Large Decline
Grey Plover
-30.6
-39.4
-57.8
Large Decline
Golden Plover
-16.9
-58.1
-54.1
Large Decline
Dunlin
5.9
-21.2
-45.2
Moderate Decline
Curlew
-9.4
-23.7
-43.1
Moderate Decline
Turnstone
-33.6
-46.0
-23.7
Intermediate Decline