Ballyteigue Burrow Nature Reserve
Site Details
Coordinates
Latitude: 52.21
Longitude: -6.659
This site is of international importance because of its range of physical features, such as sand dunes, dune slacks, mudflats and salt marshes.
The site supports four protected plant species:
Wild Asparagus (see photo),
Perennial Glasswort (for which this reserve is Ireland's main location),
Borrer's Saltmarsh Grass and
Lesser Centaury.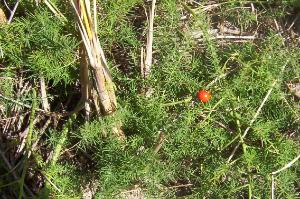 The rare lichen, Fulgensia fulgens, is found on the site at its only location in Ireland.
The open warm conditions of sand dunes offer a perfect environment for a wide variety of invertebrates such as ants, bees and wasps. An assortment of butterflies and moths inhabit the dunes, including Dark Green Fritillary and Small Heath. A number of noteworthy invertebrates, particularly of the family Hymenoptera (bees and wasps) are found in the Nature Reserve.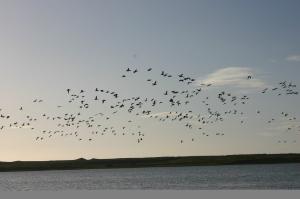 The estuary behind the dunes attracts large numbers of overwintering birds including internationally significant numbers of Golden Plover, Lapwing, Black-tailed Godwits, Pale-bellied Brent Geese (see photo).
The mudflats provide a rich feeding ground for waders and the saltmarsh grasses provide grazing for geese, ducks and swans.
Animals and plants of interest
Fixed dunes occupy the central ridge of the Burrow, where they are well developed and botanically species-rich. The vegetation is predominantly low growing and contains species such as Restharrow, Common Centaury, Wild Thyme, Kidney Vetch and Birds-foot Trefoil. As the distance from the shore increases, the dunes continue to stabilise, vegetate and mature. Rain leaches calcium from the soil, causing it to become more acidic. Such an acid area is called a heath and has its own associated vegetation. Marram grass is a keystone species of sand dunes, with many other species dependent on its presence to stabilise the dune ecosystem and enable them to survive. Some fo the rarer dune plants found at Ballyteige include Spring Vetch, Birds-foot, Sea Pea and Henbane.