Duntally Wood Nature Reserve
Site Details
Coordinates
Latitude: 55.118
Longitude: -7.901
Duntally wood is a National Nature reserve as well as a candidate Special Area of Conservation under the EU habitats Directive. Extending to over 15 hectares it is a fantastic example of an oak, ash, hazel woodland. Other notable tree species include Holly, Elm and Downy Birch. Ground flora is varied throughout the woodland and changes with soil and habitat type, common species include wood anemone, early purple orchid, hard fern, wild garlic, meadowsweet, bugle, and bluebell.

Is Tearmann Dúlra Náisiúnta Coill Dhún a'tSáile chomh maith le bheith ina iarrthóir Limistéir Speisialta Caomhantais faoi Threoir Gnáthóga an Aontais Eorphaigh. Is sampla fíor mhaith í de thalamh coille darach, fuinseoige agus coil a chlúdaíonn cúig heicteár déag. I measc gnéithe eile crann tá cuileann, leamhán agus beith chlúmhrach. Ta fásra talaimh éagsúil ar fud an talaimh coille agus athraíonn sé de réir ithreach agus cineál gnathóige. I measc na gnéithe coitianta bíonn lus gaoithe, magairlín meidhreach, raithneach chrua, gairleog fhiáin, airgead luachra, glasair choille agus coinnle corra.

Birdlife

Birdlife in the wood is very diverse from the colourful Jays to the agile Tree-creepers. Raven, Buzzard and Sparrowhawk all breed within or close to the woodland, while Wood pigeon and Blue and Long-tailed tits are regularly encountered on a walk.

Éanlaith

Tá éanlaith éagsúil sa choill ó scréachóga dáthúla go snaig lúfair. Póraíonn fiacha dubha, clamháin agus spioróga sa choill nó in aice láimhe. Buailtear le coilm coille, meantáin gorma agus meantáin earrfhada go rialta le linn siúlóide.

The Trail

A 2.5km loop trail takes you from the car-park along old cart-ways and down into the valley bottom. Potatoes and cereals were once grown in these meadows. Some have been cleared of tree cover to increase diversity within the woodland.

An Casán

Téann casán lúibe dhá chiliméadar go leith ar shean bhealaigh trucaile ón charrchlós síos go bun an ghleanna. Chuirtí prátaí agus arbhair uair amháin sna moinéir seo. Glanadh an clúdach crann de cuid díobh seo chun níos mó éagsulachta sa talamh coille a chothú.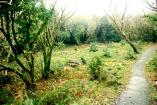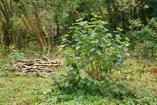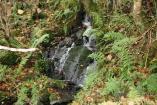 Visiting

Duntally wood is a good place to explore some of our native mammal species. Deer visit the woodland occasionally during the winter months, while evidence of fox and badger can be found by their tracks and trails. Stoats and otters also frequent the woodland. Coppicing of the older stands of hazel trees is down by cutting the old tree down to almost ground level, far from the death of the tree this pruning actually increases the vigour of the tree while also changing light levels reaching the woodland floor. A quick growing species, hazel soon sends out new multi-stemmed growth. Historically these hazel wands were cut and used around local homes and farms as light timber for fencing and tool handles.Contact David McNamara on 087 6468412 National Parks & Wildlife Service Conservation Ranger, with any queries.

Ar Cuairt

Is áit mhaith í Coill Dhún Tulaí chun eolas a fháil ar ghnéithe ár siní dúchasacha. Tugann carrianna cuairt ar an talamh coille ó am go ham i rith míonna an gheimhridh agus bíonn fianaise madaí rua agus broc le feiceáil ina rianta agus ina gcasán. Is cuairteoirí minice easóga agus dobharchúnna go dtí an talamh coille chomh maith. Déantar roschoill ar na seastáin chrann coil agus gearrtar síos iad go leibehéal an talaimh. Ní mharaíonn an roschoilliú seo iad ar chorr ar bith ach méadaíonn sé fuinneamh an chrainn agus athraíonn sé méid an tsoilais a shroicheann urlár an talaimh coille. Is gné crainn an coll a fhásann go gasta agus ní fada go gcuireann sé amach fás ilghasach. Sa tsean-am ghearrtaí na fleasca coill seo agus d'usáidtí iad thart ar thithe agus ar fheirmeacha áitiúla mar adhmad éadrom chun claíocha nó fálta a thógáil agus crainn nó cosa úirlise a dhéanamh.Teaghmháil David McNamara ar 087-6468412, Saoiste Caomhantais An tSeirbhís Páirceanna Náisiúnta agus Fiadhúlra.