Ballyarr Wood Nature Reserve
Site Details
Coordinates
Latitude: 55.029
Longitude: -7.71
Ballyarr Wood is a national Nature Reserve owned and managed by the National Parks & Wildlife Service. It has been designated as a Special Area of Conservation under the EU Habitats Directive because it is one of the best and largest examples of semi-natural deciduous woodland in the north-west of the country, and it forms an important link in Ireland's network of woodland reserves. Old sessile oak woods with holly and hazel is a habitat listed in Annex I of the EU Habitats Directive.

Is Anaclann Náisiúnta Dúlra í Coill Bhaile Áir atá faoi úinéireacht agus faoi bhainistíocht na Seirbhíse Páirceanna Náisiúnta & Fiadhúlra. Tá sí ainmnithe mar Limistéar Caomhantais Speisialta faoi Threoir maidir le Gnáthóga ón Aontas Eorpach mar go bhfuil sí ar cheann de na samplaí is fearr agus is mó de choill dhuillsilteach leathnádúrtha in iarthuaisceart na tíre agus tá sí ina nasc tábhachtach i ngréasán anaclanna coillearnaí na hÉireann. Tá gnáthóg de choillte le seanchrainn darach Gaelach agus cuileann agus coll liostaithe in Aguisín I de Threoir maidir le Gnáthóga ón Aontas Eorpach.

Old Oak Woodland

Ballyarr Wood is predominantly old oak woodland. A number of other habitats including wet woodland, scrub, wet heath and wet grassland also occur. The oak woodland has a well developed structure, with a high canopy of well grown oaks, and a good understory of holly and hazel and rich ground flora. The woodland has responded well to recent management practices such as the exclusion of grazing livestock, and natural regeneration of trees is occurring, particularly of Oak, Rowan, Holly and Hazel. The other habitats, particularly the open areas of heath and wet grassland, enhance the diversity, value and character of the woodland.

Seanchrainnte Darach

Seanchrainnte darach is mó atá i gCoill Bhaile Áir. Bíonn roinnt gnáthóga eile, cosúil le coill fhliuch, grágán, fraochmhá fhliuch agus féarach fliuch, ann freisin. Tá struchtúr dea-fhorbartha ag an gcoill darach, le ceannbhrat ard de chrainn darach lánfhásta agus sraith mhaith mheánach de chuileann agus de choll, chomh maith le flóra saibhir ar an talamh. Ghlac an choill go maith le cleachtais bhainistíochta a cuireadh in áit le déanaí. I measc na gcleachtas sin coinníodh amach beostoc féaraigh. Mar thoradh air sin, tá na crainn á n-athghiniúint go nádúrtha, go háirithe na Crainn Darach, na Crainn Chaorthainn, an Cuileann agus an Coll. Cuireann na gnáthóga eile, go háirithe na limistéir oscailte le fraoch agus féarach fliuch, go mór le héagsúlacht, luach agus carachtar na coille.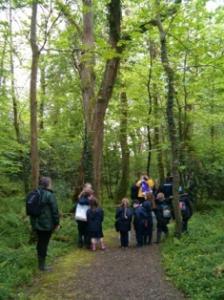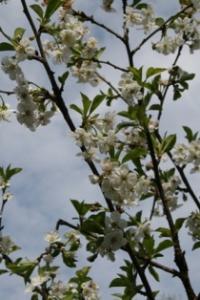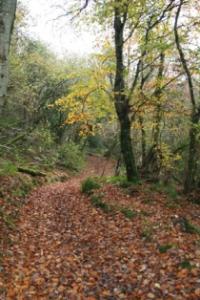 Wildlife

Access is provided at Ballyarr by a circular path which takes you through the oldest part of the woodland and shows the variety of habitats. The woodland is also being traditionally grazed during the winter months by small horses which eat the grasses, sedges and rushes and open up the ground to facilitate regeneration of the oak, hazel and holly. Ballyarr is a fantastic place to explore some of Ireland's better known mammals. Evidence of badgers with huge sets and fox holes are to be found, deer visit the woodland occasionally and stoats make their homes in the old stone walls throughout the wood.The birdlife in Ballyarr is very diverse from the larger nesting Buzzards and Ravens to the noisy Jay and not to mention the wonderful chorus of the smaller woodland birds.

Fiadhúlra

Tá bealach isteach go Baile Áir ar chosán ciorclach a thugann tríd an bpáirt is sine den choill tú agus a léiríonn éagsúlacht na ngáthnóga.Cuirtear capaill bheaga ar féarach ar an mbealach traidisiúnta sa choill le linn mhíonna an gheimhridh. Itheann na capaill sin an féar, an chíb agus an luachair agus osclaíonn sé seo suas an talamh ionas go mbíonn na crainn darach, an cuileann agus an coll in ann athghiniúint.Is áit iontach í Baile Áir chun cuid de mhamaigh is coitianta in Éirinn a aimsiú. Tá lorg broc le brocaisí móra le feiceáil, chomh maith le poill sionnach. Tagann fianna isteach sa choill ó am go chéile agus déanann easóga a gcuid féin de na seanchlaíocha cloiche ar fud na coille.Tá éagsúlacht mhór éan i mBaile Áir, na Clamháin mhóra agus na Fiacha Dubha, chomh maith leis an scréachóg ghlórach agus cór álainn éin bheaga na coille.