Ardnamona Nature Reserve
Site Details
Coordinates
Latitude: 54.680351
Longitude: -8.071594
| | |
| --- | --- |
| Ardnamona Wood Nature Reserve is a fine oak woodland, some 46.6 hectares in size which lies approximately 5km north-east of Donegal Town, just west of Lough Eske. The site consists of old Oak woodland, a listed habitat on Annex I of the EU habitats Directives. The woodland is of scientific interest for its size, natural heritage, and flora. The wood displays habitats of dry areas dominated by Oak, and wet woodland with Alder. Ash, Rowan and Downy Birch also occur in the high canopy with Holly, Hazel, and Willow in the understorey. The site is also host to the Killarney Fern, a red data book species listed in Annex II of the Habitats Directive. Two other rare plants, Whorled Caraway and Six-stamened Waterworth, are also present. | Is talamh coille breá Tearmann Dúlra Choill Ard na Móna ar 46.6 heachtár atá suite thart fá 5 km siar ó thuaidh ó Bhaile Dhún na nGall agus siar díreach ó Loch Iascaigh. Séard atá sá láithreán ná talamh coille de Shean-Dair, gnáthóg atá liostaithe ar Aguisín 1 de Threoracha faoi Ghnáthóga an Comhaoontais Eorpach. Tá suim eolaíochta sa talamh coille seo de bharr a mhéid, a oidhreacht nádúrtha agus a fhásra. Tá áiteanna tirime lán le crainn Darach le feiceáil sa choill agus talamh coille fliuch le Fearnóg. Tá crainn Fuinseoige, Caorthainn, Beithe ann chombh maith i measc na gcrann ard agus futhu sin tá Cuileann, Coll agus Saileach. Tá Raithneach Chill Airne le fail ar an láithreán seo. Is gné de chuid leabhair dheirg sonraí í atá liostaithe in Aguisín II de Threor Gnáthóg. Ta dhá phlanda eile neamhchoitianta ann chomh maith Cearrbhas Fáinneach agus Luachuisce le sé staimín. |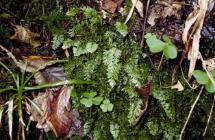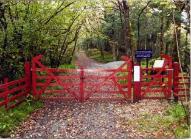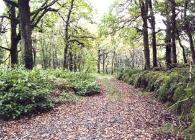 Removal of Rhododendron

Rhododendron ponticum is a non-native invasive evergreen shrub that completely takes over from native flora. It was introduced into Ireland, in the early 1800's, by landlords and estate owners to provide cover for game. Since then it has spread or been introduced to many parts of Ireland. We may all have noticed those "wonderful pink flowers" blooming across the hillsides of Ireland in May – June, little realising or understanding the grave damage they are causing. Rhododendron replaces the shrub layer in Oakwoods, blocking out most of the sunlights access to the woodland floor, making the woodland totally unsuitable for birds or other animals to live in. It also prevents oak seedlings from regenerating. Fortunately, Rhododendron has been almost completely removed from Ardnamona wood after years of cutting and spraying.

Fáil réidh leis an Ródaidéadrán

Is tor síorghlas neamhdhúchasach ionrach Rhododendron ponticum a chuireann ruaig iomlán ar an bhfásra dúchasach. Ag tús an naoú gcéad déag thug tiarnaí talon agus úinéirí eastát é isteach in Éirinn chun fasra a chur ar fail do éin seilge. Ó shin i Leith scaipeadh é nó tugadh isteach é I go leor áiteanna éagsúla ar fud na hÉireann. Is dócha gur thug muid uilig faoi deara na bláthanna bánghorma iontacha ag bláthú ar thaobhanna chnoc ar fud na hÉireann i mí na Bealtaine agus sa Mheitheamh ach níor thuig muid an dochar atá a dhéanamh acu. Glacann an Ródaidéadrán áit na sraithe tor sna Coillte darach. Ní ligeann sé isteach solas na gréine chuig urlár an talamh coille agus mar sin ní bhíonn sé foirstineach d'éin ná d'ainmhithe cónaí ann. Cuireann sé cosc athghiniúna ar shíológa darach chomh maith. Ar an dea-uair tá sé beagnach go hiomlán glanta as Ard na Móna I ndiaidh blianta a ghearradh agus a spraeáil.

Visiting Ardnamona

In 2005 a new circular path was constructed through the woodlands by the National Parks & Wildlife Service. This path begins just inside the main gate and veers off to the right. After about 2km the path rejoins the main avenue, which links back to the main entrance. Plants to look out for when visiting Ardnamona Wood are Wood Sage, Bluebell, Foxglove, Bugle, Wild Garlic, Wood Sorrel, Lesser Celandine, and Wood Anenome. In the nearby Lough Eske and River Eske, two very important Annex II species are present, namely the Freshwater Pearl Mussl (River Eske) and Artic Char (Lough Eske). Contact Carl Byrne on 087 – 6378398, National Parks & Wildlife Service Conservation Ranger, with any queries.

Ar Cuairt leis an Ard na Móna

I 2005 thóg an tSeirbhís Páirceanna Náisiúnta agus Fiadhúlra casán ciorclach tríd na tailte coille. Tosaíonn an casán seo taobh istigh den phríomh-gheata agus casann sé ar dheis. I ndiaidh timpeall 2 km sroicheann an casán an príomhbhealach a thugann an cuairteoir ar ais go dtí an príomh-bhealach isteach. Ba choir don chuairteoir na plandaí seo a leanas a thabhairt faoi deara: Sáiste Coille, Cloiginí Gorma, Lus, Buabhall, Gairleog Fhiáin, Samhadh Coille, Celandín Beag agus Anamóine Coille. Tá dhá ghné tábhachtacha de chuid Aguisín 2 le fail I Loch Iascaigh agus in abhainn Iascaigh atá in aice láimhe. Is iad an Diúilicín Péarla Fionnuisce (Abhainn Iascaigh) agus Ruabhreac Airtic (Loch Iascaigh). I gcas fiosrúcháin Teaghmháil Carl Byrne: 087 – 6378398, Maor, Seirbhís Pairceanna Náisiúnta agus Fiadhúlra.