'Actions for Biodiversity 2011-2016', Ireland's 2nd National Biodiversity Plan, launched on 9 November 2011 builds upon the achievements of the first National Biodiversity Plan and focuses on actions that were not fully completed and addresses emerging issues.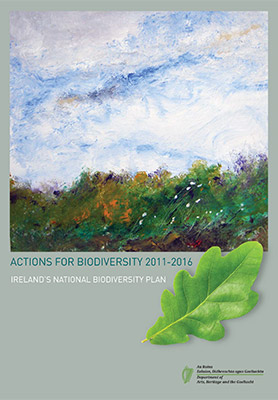 It has been developed in line with the EU and International Biodiversity strategies and policies.
Download the plan in English - National Biodiversity Plan English

[3MB]
Download the plan in Irish - National Biodiversity Plan Irish

[3MB]
In addition to biodiversity many important ecosystems exist which provide a variety of services which bring many benefits to society and the economy; there are four main categories:
Provisioning services (production of food and water, etc.)
Regulating services (e.g. the control of climate and disease)
Supporting services (e.g. nutrient cycling and crop pollination)
Cultural services (such as spiritual and recreational benefits)
The measures Ireland will take are presented as 102 actions under a series of 7 Strategic Objectives. Some of the actions within the plan are continuing elements of existing work and many are requirements under existing EU Directives. The objectives cover the conservation of biodiversity in the wider countryside and in the marine environment, both within and outside protected areas; the mainstreaming of biodiversity across the decision making process in the State; the strengthening of the knowledge base on biodiversity; increasing public awareness and participation; and Ireland's contribution to international biodiversity issues, including North South co-ordination on issues of common interest.
An interim review of implementation of the Plan was completed in December 2014 and published in January 2015.
The Biodiversity Working Group and Biodiversity Forum are commencing work in Q2 2016 on the plan for 2017 - 2021. A public consultation will be carried out on a new plan in 2016.
Previous Plans
Ireland's first National Biodiversity Plan

[3.4MB] was launched in April 2002.
An Interim Review of the National Biodiversity Plan

[1.78MB] was launched in November 2005. This review outlines the level of progress made in implementing the first National Biodiversity Plan and identified the areas where further efforts were required.

Much of Ireland's National Biodiversity Plan is legislated for by the Wildlife Act, 1976, as amended by the Wildlife (Amendment) Act, 2000.
Irelands Fourth National Report to the CBD

[888KB], which was submitted in 2010, outlines the measures which it has taken for the implementation of the provisions of the Convention. National reports provide an important source of information for review and decision-making processes for parties under the Convention on Biological Diversity. National reports for all signatory states are available from http://www.cbd.int/countries/.
Plant Conservation
A National Strategy for Plant Conservation in Ireland has been developed as a response to the Global Strategy for Plant Conservation (GSPC), adopted by the Convention on Biological Diversity in 2002. The 16 targets that had been developed from the GSPC were adopted following stakeholder meetings on records, important areas of plant diversity, invasive alien species, and public awareness.
Invasive Species
Action 28 of The National Biodiversity Plan requires Ireland to prepare strategies, in consultation with Northern Ireland, to control introduced species and to prevent, or minimise, future (accidental or deliberate) introduction of alien species, which might threaten biodiversity. A report identifying key actions advised is available the Invasive Species In Ireland

[708KB].